Copyright © 2017 Paul Dove Art All Rights Reserved.
Paul Dove became a professional artist in 2001. And this website features a selection of his original paintings and Limited Edition fine art giclee prints for sale.
New artworks will be added over time and Paul is also happy to discuss commissions.
It is hoped that you will find something of interest on the site and if you would like to discuss any aspect of the artwork featured, or commissioned art, please don't hesitate to contact Paul, either via our online enquiry form HERE traditional mail or by telephone.
Featured Paintings
ALBERT BALL VC
Two paintings to commemorate the 100th Anniversary of the Last Flight of Albert Ball VC May 7th 1917


"The Fading of the Light"
Original Acrylic on canvas, 120cm x 90cm
£2,500
This painting depicts Albert Ball, flying his SE5 (A4850) on the evening of May 7th 1917, having spotted an enemy aircraft, he prepares to attack, watched by fellow RFC pilot Cyril Crowe.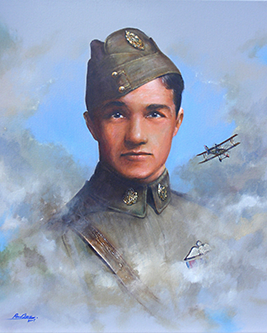 "Albert Ball VC"
Original Acrylic on canvas 51cm x 61cm
£475.00
This Portrait painting of Albert Ball, also features his SE5, flying through the clouds and into the distance.
"Per Ardua Ad Astra"