Featured Painting
This painting features Sir Roger Moore as 'The Saint' driving his Volvo P1800 through Piccadilly Circus. The original acrylic painting on canvas measures 120cm x 100cm and is now SOLD
However, a limited edition run of only 50 high quality heavy weight fine art paper prints are still available, with an image size 56cm x 46cm.
These are priced at £75 + £6.95 p&p (UK) £8.95 p&p (Worlwide).
Paul Dove became a professional artist in 2001. And this website features a selection of his original paintings and Limited Edition fine art giclee prints for sale.
New artworks will be added over time and Paul is also happy to discuss commissions.

It is hoped that you will find something of interest on the site and if you would like to discuss any aspect of the artwork featured, or commissioned art, please don't hesitate to contact Paul, either via our online enquiry form HERE traditional mail or by telephone.

Copyright © 2015 Paul Dove Art All Rights Reserved.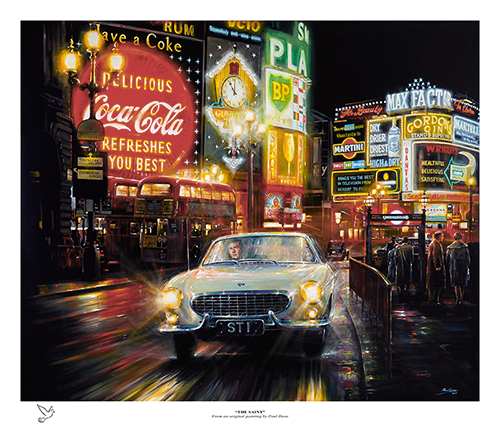 "The Saint" - Limited Edition Print
Click the image to see a larger version